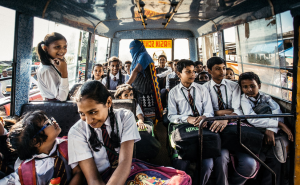 In a world of dictated by information technology, social media; schools face the challenge of engaging their students. Students born to this world of distraction need stimuli to participate in the learning process and become better individuals. Schools make this effort by creating innovative classrooms, modernizing everything from smart boards to air conditioning. Everything to stake claim to that prize, student attention
How can school uniforms make for better schools?  What if there were initiatives could allow students to better concentrate simply by not being noticeable? One easy win for schools is uniforms. Here we are only talking of schools that already enforce uniforms. Parents with young children will often speak of how difficult it is to get their children dressed for school. And of how quickly the children are ready to step out of them given the opportunity. Often it is not just taste but also comfort that drives this behaviour.
CUSTOM DESIGNED SCHOOL UNIFORMS
If school uniforms  could be designed to be comfortable in addition to being smart and age & culture appropriate some of it could be a simpler task. Older students are resigned to wearing their school uniforms  but must suffer through discomfort. But these school uniforms whether it is the itch / tight loose fit that prevents them from concentrating in class. If these were addressed it would be that much better for students to concentrate in class. Students will think better when they're comfortable.
The people who make this happen are designers who are able to link the school vision with the classroom environment and the aspirations of the school. There must be a school representative to articulate school specific requirements or situational challenges.
E.g. the school might be centrally air-conditioned but the children could commute by public transport which might not necessarily be air conditioned
The timetable of the activities with extracurricular participation, sports but the students might not have the opportunity to change their apparel.
While it is easy to buy off-the-shelf apparel that creating something unique that is custom designed for the school ethos. This does not mean that it is expensive, planning it right means also seeking out the experts who will not only help design but also source the right material at appropriate prices.
UNIFORMS AT THE RIGHT COST
A quick note on considerations for planning these are :
The school management to articulate the ethos and expectations from the brand

The designer to match the colour and design with the school brand and create something unique

The merchandiser/producer to bridge the gap between the design and an affordable uniform

The supply chain partners to ensure there is sufficient bandwidth to meet demand

The retail partner to facilitate the disbursement of the school uniforms and planning according to demand.
While it is understandable that schools might not yet be ready to change their uniform design it might be a good idea to evaluate it terms of materials appropriate to classrooms, weather and application. Natural fibres are generally found to be more comfortable
Cotton instead of blends of polyester and cotton for classrooms

Wool in North India where the winter can be harsh

Specially designed sportswear to wick away perspiration
As one would expect this requires advance planning, to read about planning a school uniforms change read our blog  "Providing the Right School Uniforms at the Right Time."