Uniforms are a reflection of dignity and pride for any institution especially schools where it creates an identity for both the schools and the students wearing them. It makes students feel a part of the institution and gives them a sense of belonging, creating an atmosphere of equality and harmony in the school premises. But as time  progresses, school uniforms have become more about conformity and convention for children than a badge of honor and loyalty.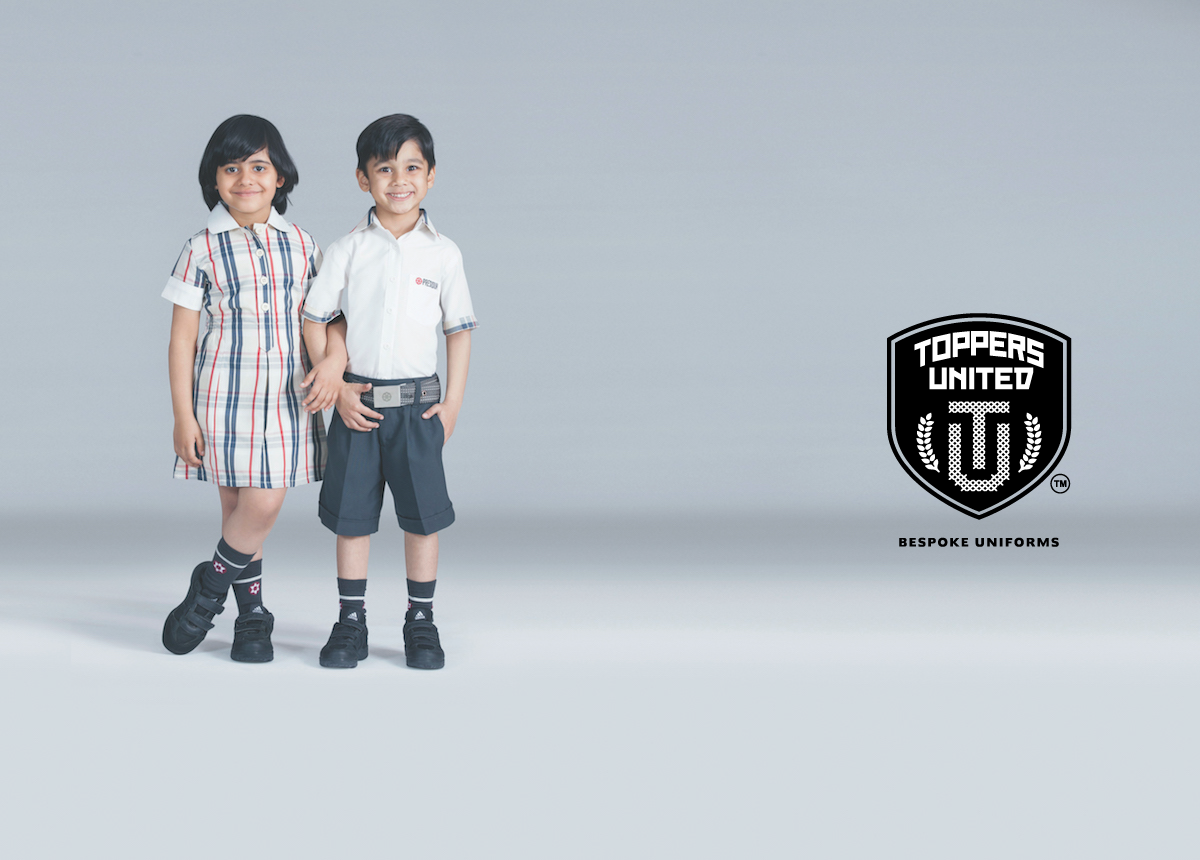 Getting restricted to a way of dressing feels like a burden to them and they can't wait to take them off as soon as they walk out of their schools. Majority of these students feel that their uniforms are outdated, boring and uncomfortable, affecting their self-image. It is more about conformity than bringing about their personality and individuality.
At Toppers United, we attempt to find the solutions to this millennial problem and invent the polar opposite of a regular uniform- The Anti-Uniform!
Uniforms- For The School, Of The School, By The School
 From whatever perspective you see, homogeneity never attracts and is definitely boring. Looking at the same dull uniform everyday, everywhere is not a delight to sore eyes and is one of the major reasons why students hate it. Uniforms are boring because they come in the most tedious of colors and are made from unpleasant fabrics that makes wearing them for long hours, uncomfortable. The trick is to come up with something that is not only fun to wear and stylish but is also super comfortable and easygoing. Every uniform that we design goes through a complete cycle of research, planning and execution.
Our experienced team of designers takes into consideration the aesthetics and code of conduct each school lives by and delivers uniforms that reflect those in the best possible way. Each piece of uniform is carefully and intricately designed with the best of fits, colors and cuts that suit the vast diversity of students. The fabric used is comfortable and breathable giving the students a pleasant experience of wearing a school uniform that fits them perfectly.
Our uniforms do not suppress individuality, rather they enhance it. Wearing a bespoke uniform designed by Toppers United will give your students the confidence and self-esteem that will make them represent their school in a manner of pride. When a student feels confident in their appearance, it naturally leads to increased concentration and focus in studies and their overall development. These Anti-uniforms give the students the sense of happiness and belonging that a conventional uniform would never provide.
Wide Array of Bespoke Uniforms In Your Budget 
With state of the art technology and competent team of designers and merchandisers, Toppers United takes pride in supplying our bespoke creations to top schools across India. Although expanding rapidly, qualities of service and customer satisfaction remain our topmost priorities. Our experienced sales executives offer complete guidance in choosing the most suitable fabrics, styles and designs that suit your needs. It is our main objective to provide a hassle free experience of ordering school uniforms that are high in quality and value for money. Our exquisite range of school uniforms differs from casual semi-formal uniforms to sophisticated formal uniforms, from light summer uniforms to winter and sports uniforms.
So, if you're on the lookout for a refreshing and contemporary take on traditional and restricting school uniforms, we would work with you and make this transition as smooth and enjoyable for you as it is possible. We take absolute privilege in translating your ideas and vision for modern, progressive school uniforms into a lived reality that makes the school and most importantly the students happy.